Wednesday, May 5
-
Happy
Cinco
de
Mayo
- A celebration of Mexican heritage, Cinco de Mayo commemorates the Mexican army's victory over France at the Battle of Puebla in 1862.
Wednesday, May 5
- Calligraphy Class #5 with DeAnn Singh from 6:30 to 8:30.
Friday, May 7
- Stampin' Cafe' Night from 6:30 to 9:00. Bring your supplies and your project and come on in, we'll have some fun together.
Saturday, May 8
- Big Shot Class with Gayle Smith from
10:30 to 2:30. Cost is $35.00. Many of you have the die cut machine but either don't know how to use it or are intimidated by it. Take Gayle's class and let the die cut machine become your friend and well as a beautiful artistic tool. You will learn how to use other companies dies, such as Spellbinders Nestabilities and Cuttlebug, in the Big Shot. Here is the project for the first class. It's a new take on the star book using the Nestabilities to make cutouts to place dangling messages. Cute? I think so.
Supply List:
Bring your Big Shot or Big Kick, if you have one. If you do not have one don't worry.
Sunday, May 9
-
Closed-

Happy Mother's Day
Wednesday, May 12
- Calligraphy Class #6 with DeAnn Singh from 6:30 to 8:30.
Friday, May 14
- Make it & Take it with Jessica Hollowell from 6:30 to 8:30. The project or card are $5.00 per card or project. Come on in and join us, and see what she has up her sleeve. You'll have fun.
Saturda
y, May 15
- See Stars with Mike Strong from 10:30 to 12:30. Cost is $30.00.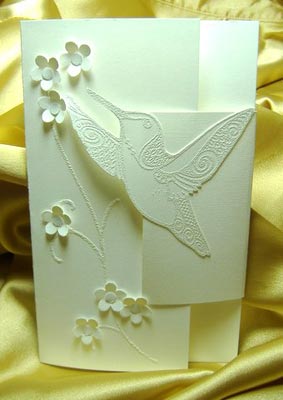 Saturday, May 15 - White on White with Mike Strong from 2 to 4. Cost is $30.00

Sunday, May 16
- Addicted to Tape with Kelly Kilmer from 12:30 to 4:30. Cost of this class is $70.00. Love collage? Have you been caught buying up rolls of tape and you're not sure of everything that you can do with them? In a bit of a sticky situation? Looking for some new ideas of what you can do with one of the hottest art supplies around? Look no further! In this class we will
explore a myriad of techniques, tips, tricks and ideas that you can do with decorative tape. Learn how to layer fun and colorful backgrounds using what some call stickers, but
what most call tape! We will explore masking tape (not the old stuff, but the fun colorful stuff available in many different designs and colors), decorative tape, and more! Walk out of class with your head spinning with ideas, and a smile on your face.
Optional
-You can bring your journal to class to work in, or the teacher will be supplying paper for you to work on.
Supply list
: Scissors, small selection of favorite collage ephemera, bone folder, cork back metal ruler, roll of waxed paper, roll of paper towels, permanent black ink pad, container to hold water, 3 1" brushes to glue and paint (I like chip or bristle brushes) THANKS! Kelly - EGorey99@sbcglobal.net
http://www.KellyKilmer.blogspot.com/
CLASS SCHEDULE AVAILABLE AT:
http://kellykilmerworkshops.blogspot.com/


Wednesday, May 19 -
Calligraphy Class #7 with DeAnn Singh from 6:30 to 8:30.
Thursday, May 20
- ATC Club with Jessica Hollowell from 6:30 to 8. Cost is $10.00. Jessica will teach a technique for ATC and then you will get to make two of your own. Suggested: Bring 6 to 10 ATC of your own to trade.
Friday, May 21
- Basic Stamping Class with Karen Hutchinson from 6:30 to 8:30. Cost is $30.00. We have just added a new class, it is the Basics Class. You will learn to stamp, about inks, and embossing. If you have been looking for a Basics class now is your time to sign up. Call the shop (310) 391-0466, if you want to attend or email me at stampinheart@hotmail.com
Saturday, May 22
- Paper Quilting with Wendy Poma from 10:30
to 2:30. Cost is $40.00. Renewable journal p;us two greeting card.
Sunday, May 23
- Walk thru Wonderland Tag Book with Linda Forrest from 12:30 to 4:30. Cost is $45.00.
Wednesday, May 26
- Calligraphy Class #8 with DeAnn Singh from 6:30 to 8:30.
Thursday, May 27
- Art from the Heart Club from 7 to 8:30. It was decided at the last meeting that the members want to make cards, so each month there will be an idea for card making. Each one of you are to
bring a basic stamping kit
: black permanent ink, your choice of glue, your choice of double sided adhesive, scissors, pen, bone folder, stamps of your choice, papers and ephemera you want to share with the group. You will then stamp and assemble your card(s) right then and there and share with the group. This month's theme is Travel
.
Bring extra paper to stamp other peoples stamps to take home. You might like someone else's stamps and would like to stamp extra images to do things at home. Since there were very few of you in March's club we decided to carry over the theme to April. Travel can be such a fun theme--bring you Eiffel Tower Stamps, your airplane stamps, your luggage stamps and your ideas.
Thursday, May 21
- Beginner's Basic Class with Karen Hutchinson 6:30-8:30. Cost, $30.
For those of you who have been wanting a basic class in the evening here is the first. There will be more down the line, but this is the first. I will post picture samples later on and they are in the shop.
Friday, May 28
- Pinecone Press Options Class with Gayle Smith,
6:30-8:30. Cost is $35.00. This is an off-side accordion book with plenty of cut outs.
Saturday, May 29
- Hanko Paper Class - Lori Lai from 12:15 to 4:15. Cost is $50.00. Come learn various cardmaking techniques that Lori Lai teaches in her various classes.
Supplies List
- for this class: small "x"- xyron sticker maker (if you own one), paper piercer, foam mounting tape, double sided tape, bone folder, pencil/eraser, scissors, adhesive tape runner (such as Mono adhesive) or any other Basic Supplies Kit.